MI Skin Dermatology Center: Melda Isaac, MD
Two Lafayette Centre
1133 21st Street NW, Suite 450
Washington, DC 20036
Phone: (202) 393-7546
Monday–Friday: 8:30 a.m.–4 p.m.

Meet Dr. Isaac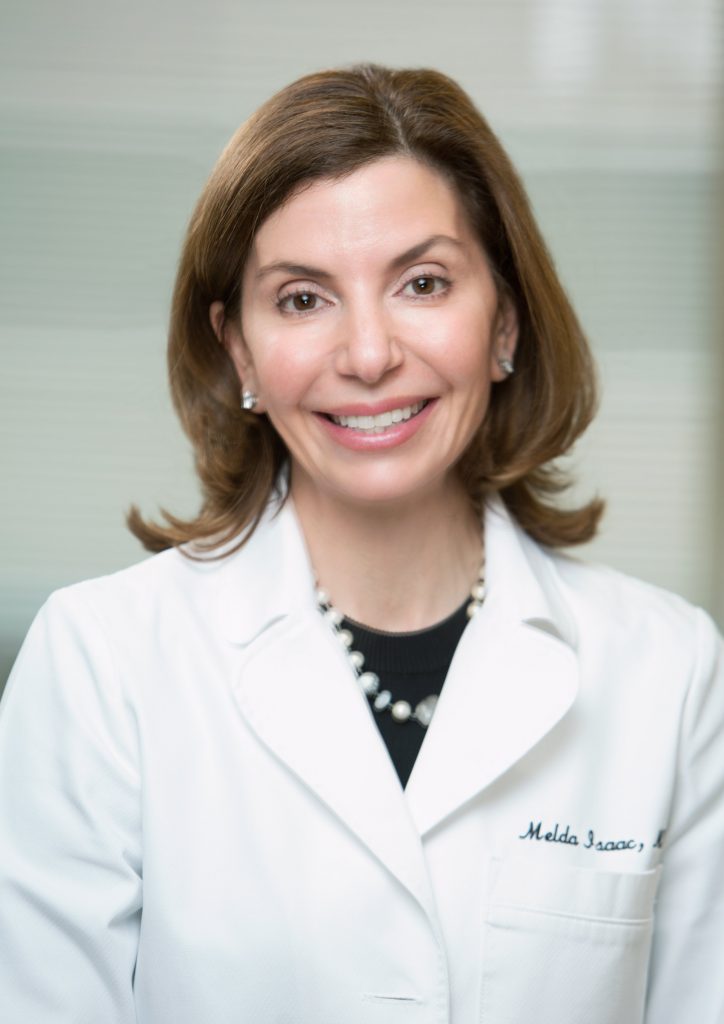 Dr. Melda Isaac has frequently been recognized as a "top doc" and ranked among the best dermatologists in Washington DC. She is a board-certified dermatologist who specializes in both medical and cosmetic procedures.
Here you can learn more about the founder and director of MI Skin Dermatology & Laser Center.
Education
Dr. Isaac obtained her medical degree from Penn State University and completed her dermatology training at George Washington University Hospital.
After her residency training, Dr. Isaac held academic appointments as Assistant Professor of Dermatology at Hahnemann University Hospital and the University of Pennsylvania Department of Dermatology in Philadelphia. She also held teaching appointments and served as a consultant at Washington Hospital Center and Sibley Memorial Hospital in Washington, DC before launching MI Skin Dermatology Center.
Areas of Expertise
Dr. Isaac has specialized expertise in both medical and cosmetic dermatology offering a range of services, which include:
Dr. Isaac recommends cosmetic and medical dermatologic treatments to fit the needs and cosmetic goals of each patient.
Professional Memberships & Awards
Dr. Isaac is an active member of the the following organizations:
American Academy of Dermatology
American Society for Dermatologic Surgery
Women's Dermatologic Society
American Society for Laser Medicine and Surgery
Washington DC Dermatologic Society.
Dr. Isaac has been repeatedly recognized as one of Washington, DC's "Top Docs" by Washingtonian magazine.
Experience: Dr. Isaac has more than 20 years of focused experience in cosmetic and medical dermatology. She performs the largest number of BOTOX treatments in the Washington, D.C. area.
Training: She earned a medical degree at Penn State College of Medicine and completed a dermatology residency at George Washington University. Dr. Isaac was extensively trained in the use of BOTOX and Restylane by Alastair and Jean Carruthers, the doctors who pioneered the cosmetic use of BOTOX.
Reputation: Dr. Isaac has been voted multiple times by other doctors in the area as one of Washington, DC's "Top Docs" in a survey by the Washingtonian magazine.
Eye for aesthetics: Dr. Isaac understands the interplay of facial features that lends itself to a beautiful face. Her expertise in the benefits and placement of various injectable treatments leads to consistently natural-looking results. She understands that patients want to look younger and more attractive yet still like themselves.
"Everyone in the DC inner circle knows that Melda Isaac is the best aesthetic Dermatologist in DC/MD/VA. I have tried so many providers, and her botox and filler looks super natural and well done. She genuinely cares about her patients and will absolutely tell you the truth about what you need to look you best. I love her honesty. She takes so much time with her patients and has the highest standards. Her staff is terrific too."

-josephinecoco on RealSelf.com
A Conversation With Dr. Isaac
Where did you grow up?
I grew up in Allentown, PA, the youngest of five children. My father was a general surgeon and encouraged me to become a physician.
Did you always want to be a doctor?
Although I knew I wanted to become a physician when I was in college, I did not know I wanted to be a dermatologist until my third year in medical school. The dermatologists at my medical school were inspiring mentors.
Why did you choose the field of dermatology?
Dermatology offers an excellent balance of both surgical and medical disciplines. It allows me to treat all age groups and genders; it also allows me to utilize my creativity and artistic talents. Many skin issues are the window to underlying medical problems. Also, I was struck by the influence a person's appearance has on their overall confidence.
What brought you to Washington, DC?
I was honored to be accepted to the George Washington University Hospital Dermatology Residency Program in 1991.
When did you first start your practice, MI Skin?
I founded my practice in 2001.
Do you have specialized training in injectable treatments?
I first was introduced to injecting BOTOX for cosmetic use to reduce glabellar frown lines in 1995. It wasn't until 2002 that I received my significant specialty training in BOTOX and Restylane in Vancouver, BC under the direction of Dr. Alastair Carruthers and Dr. Jean Carruthers. They are the actual founders and pioneers of using BOTOX for cosmetic indications.
That training in Vancouver was career-changing as I returned to Washington, DC with the knowledge, confidence, and inspiration to use BOTOX injections to improve facial asymmetries and soften harsh expression lines.
Since then, I have had an affinity for learning as much as possible about different applications of all neuromodulators and injectables. This is a fluid process. I continue to enjoy studying different injection techniques and styles, striving to achieve optimal results to prevent the appearance of aging and to restore a youthful, balanced appearance.
Schedule Your Dermatology Consultation
To start your skincare journey with cosmetic dermatologist Dr. Melda Isaac, call MI Skin Dermatology & Laser Center today at (202) 393-7546, or request a consultation online!