MI Skin Dermatology Center: Melda Isaac, MD
Two Lafayette Centre
1133 21st Street NW, Suite 450
Washington, DC 20036
Phone: (202) 393-7546
Monday–Friday: 8:30 a.m.–4 p.m.

JUVÉDERM® Family
In Chevy Chase, Arlington, Bethesda, and surrounding areas, people with busy schedules are hard-pressed to fit lengthy cosmetic procedures into their lives. Luckily, there are quick, simple treatments such as JUVÉDERM—one brand of dermal fillers—available in Washington, DC, at MI Skin Dermatology Center.
With the JUVÉDERM family of products, a younger, rejuvenated appearance can potentially be yours in under an hour.
View Before & After Photos
The JUVÉDERM Family of Products
Developed by Allergan, the maker of BOTOX® Cosmetic, the JUVÉDERM family of products is among the most popular and trusted of all the dermal fillers. The brand has developed different formulations for truly customized results. Each JUVÉDERM product is made of synthetic hyaluronic acid (HA)—a substance that occurs naturally in the body and gives volume and hydration to the skin. The smooth consistency gel provides a natural look and feel to the lips, cheeks, chin, and jawline.
MI Skin offers the full range of JUVÉDERM products, including:
JUVÉDERM VOLLURE™ XC: Used to treat deeper facial lines and wrinkles, such as nasolabial folds.
JUVÉDERM VOLUMA® XC: Designed to enhance volume and lift skin in the cheeks.
JUVÉDERM VOLBELLA® XC: Formulated specifically for lip augmentation.
Dr. Isaac or Dr. Yanes will select the filler that is most appropriate to treat your concerns and provide a natural-looking result to help reveal a more refreshed, youthful appearance.
JUVÉDERM XC and JUVÉDERM VOLLURE™ XC
Both of these products are used to correct moderate to severe facial lines and wrinkles, especially nasolabial folds (sometimes called parentheses or smile lines). They are also popular for use on marionette lines—the vertical lines that run from the corner of the mouth down the chin.
JUVÉDERM XC is also sometimes used to enhance the lips and add volume to other areas of the face.
JUVÉDERM VOLUMA
VOLUMA is a specially formulated dermal filler that is injected deep below the skin to restore volume and structure. VOLUMA's thicker consistency allows for effective treatment for flattening or sagging caused by volume loss, particularly in the cheek area of the face.
VOLUMA is generally best for people who want to:
Dramatically restore volume to their face
Obtain a more pleasing facial contour
Augment their cheekbones or chin nonsurgically
It is a great option for patients who have started to experience a hollowing in their cheeks due to aging, genetics, weight loss, medical illnesses and medications.
JUVÉDERM VOLBELLA
VOLBELLA is developed specifically for the lips and the area around the mouth. VOLBELLA has a lower concentration of HA than other JUVÉDERM fillers. That makes it better suited for adding volume to thin lips and smoothing the fine lines that can develop around the mouth.
VOLBELLA can specifically provide the following improvements:
Virtually anyone over the age of 21 who wants to enhance their lips can get VOLBELLA injections.
Choosing Dr. Isaac for your Allergan treatments? Great!
Saving on future treatments?
Even Better!
The Allē℠ rewards program from Allergan Aesthetics makes it easy to save on BOTOX®, JUVÉDERM®, CoolSculpting®, and other eligible treatments, as well as LATISSE® and SkinMedica® products. Getting started is simple; just sign up online.
Learn More
Model
Other Dermal Filler Options
As specialists in nonsurgical facial rejuvenation, we believe it's important to have the right tool for the job, which is why we offer a variety of other filler options, including:
Turn Back the Clock
Rediscover a younger, more vibrant you. Trust award-winning dermatologists Dr. Melda Isaac and Dr. Daniel Yanes to restore your vibrance with individualized anti-aging procedures. Each treatment is meticulously planned and performed to take years off your face without leaving any obvious signs of a cosmetic treatment. Look as youthful as you feel, starting today.
Schedule Consultation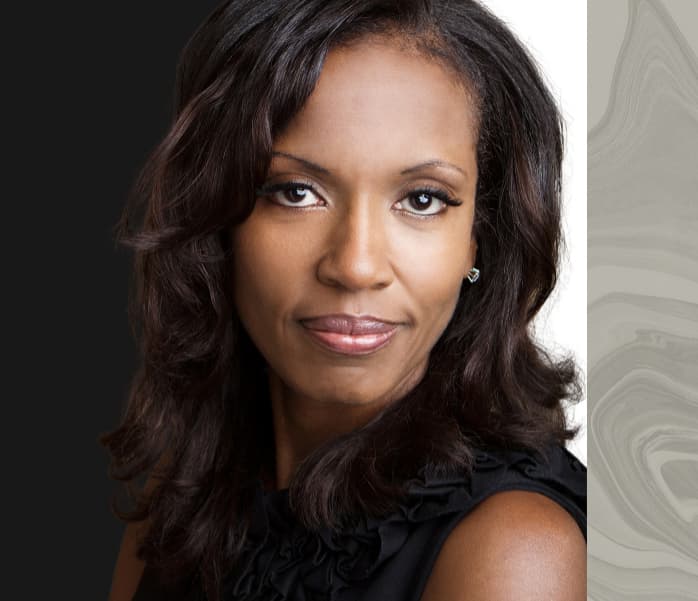 Model
What To Expect at Your JUVÉDERM Treatment
JUVÉDERM injections may be the perfect solution for a busy professional who can only spare a little of their time. The procedure itself takes 10 to 30 minutes, and there is generally no downtime required.
The procedure is generally low-discomfort with no anesthetic needed, although a topical anesthetic is always offered at MI Skin Dermatology. Each of these JUVÉDERM products is pre-mixed with lidocaine for a more comfortable injection.
Your provider uses a very fine needle to gently inject JUVÉDERM into the treatment area. She adds just the right amount of volume to smooth the skin and create youthful, attractive contours while maintaining a very natural appearance.
What Is JUVÉDERM Recovery Like?
After having a procedure done, most people immediately resume their daily activities. You will likely see a difference in your appearance right away, though you may have some swelling, bruising, or redness that lasts for about a week.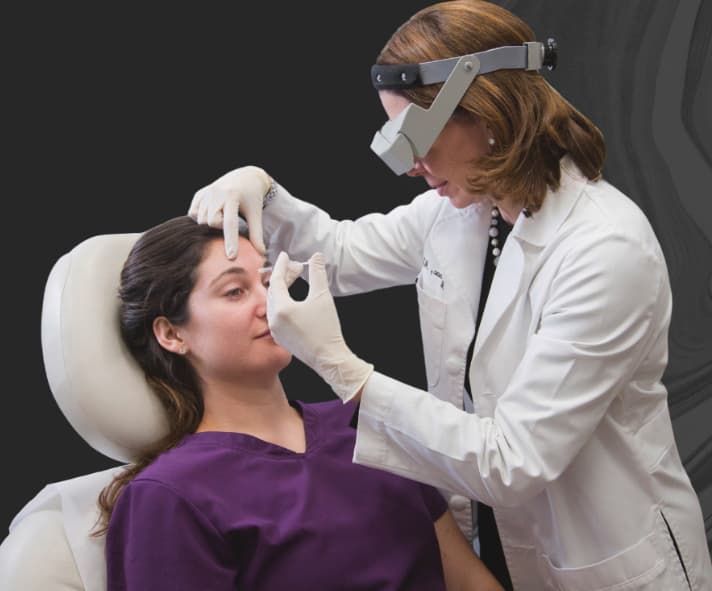 Expert in the Art of Injectables
Dr. Melda Isaac's impressive credentials make her the choice of so many for BOTOX, JUVÉDERM, and other injectables. Highlights include:
Board-certified dermatologist
20+ years of experience with injectables
Performs more than 2,000 injectable treatments per year
Provides the most BOTOX treatments in the Washington, DC area
Incorporates her refined sense of facial aesthetics into each treatment
Remains on the forefront of injectable techniques and applications
Schedule Consultation
More JUVÉDERM FAQs
It's our mission to be as helpful and informative as possible. We've compiled some common questions about JUVÉDERM and their answers below.
Q: Who can use JUVÉDERM?
A: JUVÉDERM is a safe and effective treatment for most skin types and tones. Some JUVÉDERM products are approved for use only in people age 21 or older. Of course, it is important to have a thorough consultation with an expert dermatologist to make sure that JUVÉDERM is the right treatment for you.
Q: Is JUVÉDERM or BOTOX better?
A: The best choice depends on the concerns you want to address.
If you want to smooth out lines caused by squinting, raising your eyebrows, concentrating, or making other facial muscle contractions, BOTOX is a good choice.
If you have smile lines around your mouth, hollows under your eyes, tear troughs, sunken cheeks, or thin lips, JUVÉDERM can add or replace volume under the skin, making it a better choice than BOTOX.
Q: What is the best age to start getting JUVÉDERM injections?
A: People as young as 21 can benefit from lip injections with JUVÉDERM. These treatments are a good choice for many people in their mid-30s and up who are interested in facial rejuvenation.
Q: How long do JUVÉDERM results last?
A: Some JUVÉDERM products can last up to 18 months or longer. The longevity of your results depends on the product used, the area being treated, and how quickly your body metabolizes fillers.
Q: Are JUVÉDERM injections painful?
A: The JUVÉDERM procedure is not usually painful when done by an expert dermatologist with experience in dermal filler injections. JUVÉDERM products come pre-mixed with an anesthetic for your comfort. Of course, if you are worried about discomfort, a topical numbing cream can also be used.
Q: What are the side effects of JUVÉDERM?
A: Side effects are usually minimal following a JUVÉDERM treatment. The most common side effects include redness, swelling, and bruising around the injection sites; however, these should be temporary effects that disappear within a few days. Makeup is perfectly fine to use immediately after treatment to cover any redness or bruising if needed.
Q: Which JUVÉDERM Filler Is Best for Lip Injections?
A: Our injectors prefer injecting VOLBELLA and JUVÉDERM Ultra XC in the lips since they flow freely and feel soft. She uses these fillers to enhance and reshape naturally thin lips, creating a fuller bottom lip or a more pronounced cupid's bow.
Q: Are dermal fillers safe?
A: JUVÉDERM is FDA-approved and perfectly safe when injected by an experienced, board-certified dermatologist like Dr. Melda Isaac or Dr. Daniel Yanes.
Schedule your Consultation Today
If you've been looking for a quick treatment that refreshes and rejuvenates your appearance, request a consultation online or call (202) 393-7546. People visit MI Skin for JUVÉDERM from across metropolitan Washington, DC, including Bethesda and Chevy Chase, MD, and Arlington and Alexandria, VA.
About Our Doctors
Dr. Melda Isaac and Dr. Daniel Yanes are consistently recognized among the top dermatologists in Washington, DC. Our board-certified dermatologists provide both medical and cosmetic dermatology services with professionalism and compassion. Their specialized expertise in injectables and an eye for creating natural-looking results have made them a sought-after source for excellent dermatological care.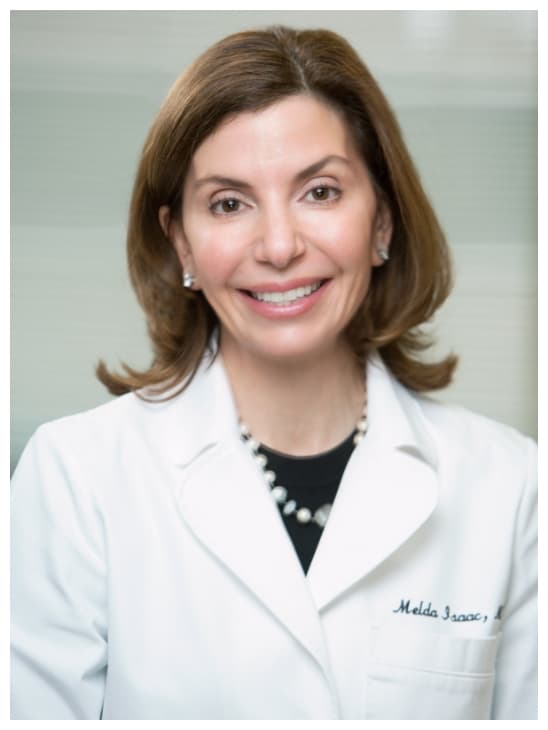 Melda Isaac, MD
Founder and Director of MI Skin Dermatology and Laser Center
Meet Dr. Isaac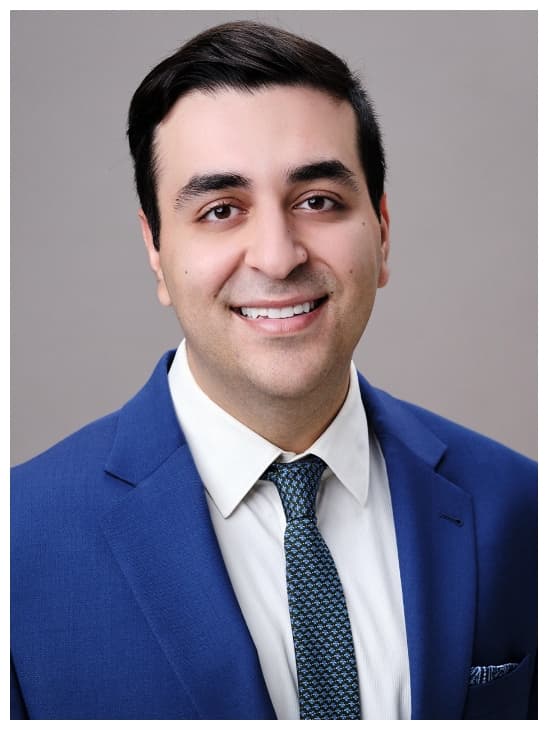 Daniel Yanes, MD
Board-Certified Dermatologist
Meet Dr. Yanes
Credentials you can trust