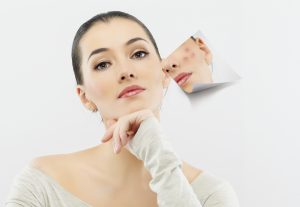 Every day, millions of people suffer from skin conditions that can negatively impact their quality of life. It is important to find a knowledgeable and experienced dermatologist who understands the best ways to treat chronic skin problems. In Washington, DC, the patients of MI Skin Dermatology Center can trust that they will receive a thorough consultation with expert dermatologist Dr. Melda Isaac, and she will recommend a treatment plan to help overcome their medical skin concerns.
Medical Skin Conditions
Acne
Whether acne lingers from adolescence or appears in adulthood, it can cause extreme embarrassment and self-consciousness. When medication alone will not clear up your skin, Dr. Isaac in Washington, DC can recommend the latest laser treatments and chemical peels that have been proven effective against acne.
Learn more about Acne.
Aging Skin
Wrinkles, sun damage, and sagging skin are all common signs that we are getting older. As our skin shows signs of aging, many of us want to turn back the clock. With cosmetic treatments, we can reduce the appearance of aging skin and restore a more youthful appearance.
Learn more about Aging Skin.
Birth Marks
Birthmarks and other areas of pigmented skin can be difficult to hide if are unhappy with their appearance. While they are typically harmless, prominent birthmarks can distract from the skin's natural beauty and can be removed if they cause dissatisfaction with one's appearance.
Learn more about Birthmarks.
Rosacea
Rosacea is an inflammatory skin condition that causes facial bumps and redness during flare ups. While there is no permanent cure for rosacea, there are treatment methods that can help manage symptoms.
Learn more about Rosacea.
Skin Cancer
The rate of skin cancer is on the rise, especially among young people. It is important to get screened for skin cancer on a regular basis in order to detect and treat it as early as possible. When caught early, skin cancer can usually be treated very success fully.
Learn more about Skin Cancer.
Ultra Femme 360
Ultra Femme 360 is a new non-invasive treatment that uses radiofrequency energy to tighten both the external labial tissue and vaginal canal. This leads to a host of benefits such as increased sexual pleasure, and a reduction of stress incontinence.
Learn more about Ultra Femme 360.
Turn Back the Clock Today
Contact Dr. Melda Isaac for a Consultation
Schedule your Medical Dermatology Consultation in Washington, DC Today!
Skin problems can negatively impact your quality of life — but you don't have to live with them. Dr. Isaac can help.  Request your consultation online or call  (202) 393-7546  to book your visit today.