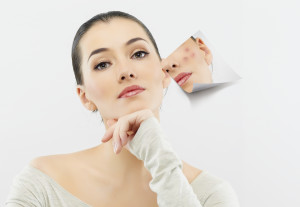 Acne is one of the most common dermatological problems, affecting almost everyone at some point during their life. Acne, also called "pimples" or "zits," is an inflammatory condition of the oil glands of skin which is most commonly found on the face, neck, chest, shoulders and back. When pimples becomes inflamed and painful but no acne treatment is given, acne scarring can occur.
Acne can be caused by stress, hormonal fluctuations, abnormal cell turnover, and excessive oil production. Some people may experience only a mild outbreak every once in a while, while others may have to contend with chronic pimples that never seems to completely disappear. No matter what type of pimples you have or how frequently it occurs, however, there is an active acne treatment option for you. Dr. Isaac is an expert dermatologist in DC who will be able to assess your skin's condition and recommend the most effective treatment options for you.

Turn Back the Clock Today
Contact Dr. Melda Isaac for a Consultation
Acne and Acne Scar Treatments
There are multiple treatments available for both active acne and acne scars. These include topical creams, oral medications, and in-office acne treatments such as chemical peels, DermaSweep, and lasers for chronic pimple removal. Dr. Isaac at the MI Skin Dermatology Center in Washington DC uses the most innovative and advanced ways to treat your stubborn acne and or acne scarring. Click to learn how to remove acne scars.
Chemical Peels
Chemical peels are a great option to remove dead skin cells in order to facilitate new skin growth and create brighter, smoother, healthier-looking skin. A common treatment for mild pimples is a de-toxifying facial coupled with Dermasweep, which helps in zit reduction. This will clear even deeply clogged pores, leaving skin healthy and glowing. Dermasweep combined with a superficial chemical peel will renew the skin, leaving it better able to absorb topical medications as well as products such as moisturizers, and is overall an effective acne treatment. This will help your skin to better fight off pimple outbreaks in the future as well.
DermaSweep
DermaSweep microdermabrasion is an innovative exfoliating treatment that combines brush tip exfoliation with topical solutions and variable pressure for a precise and thorough skin treatment. Combined with a chemical peel, this extraordinary skin treatment can completely refresh and renew pimple-prone skin.
Laser Treatments
For more stubborn or problematic zits, laser treatments may be a good option. The MI Skin Dermatology Center in Washington DC offers many kinds of laser treatments for different skin conditions.
Photodynamic Therapy
Photodynamic therapy, or PDT, is an effective way to treat both acne and acne scars, as well as sun damage and facial redness. PDT uses blue or laser light in order to kill pimple bacteria and treat the sebaceous glands that cause active acne lesions.
BBL Forever Clear and V-beam Photofacial
BBL, or broadband light, Forever Clear photofacials can treat redness and uneven skin tone. The V-beam photofacial can treat scars, rosacea, uneven coloring and red birthmarks. The Excel V laser is a multi-tasker that can treat active acne, acne scars, uneven skin tone, irregular skin texture, and other skin conditions. These lasers are completely safe and relatively painless in the hands of an experienced dermatologist such as Dr. Melda Isaac in Washington DC.
Laser Resurfacing, Genius RF Microneedling and Collagen PIN Microneedling
For more problematic and deeper pimple scarring, numerous resurfacing procedures are offered at MI Skin Dermatology Center in Washington DC. Depending on the depth or severity of scarring, one's skin type, schedule and amount of downtime, Fraxel laser resurfacing, fractional CO2 resurfacing with Active and or Deep Fx lasers, Erbium laser treatments, Genius RF microneedling and Collagen PIN Microneedling are performed to reduce appearance of pimple scars and marks.
Schedule a Consultation Today
If you suffer from acne or acne scarring, there is an acne treatment that is right for you. To find out more about what solutions are available for you, contact the MI Skin Dermatology Center in Washington DC to schedule your consultation! Call (202) 393-7546 to make your appointment today.