If you're troubled by parentheses lines or marionette lines around your mouth, Washington, D.C. dermatologist Dr. Melda Isaac can help improve their appearance with JUVÉDERM VOLURE™ XC. By adding volume to facial wrinkles, this filler helps improve the appearance of deep lines around your mouth.
What is VOLLURE?
VOLLURE is part of the JUVÉDERM family of fillers. It is a hyaluronic acid-based (HA) filler designed to be injected in moderate to severe facial wrinkles including nasolabial folds or "parentheses lines around the mouth. This filler has a stronger formation than Volbella, which is used to and soften fill in fine lines around the lips and mouth, and is designed to treat deeper animation wrinkles that develop as the face ages.
VOLLURE is injected into the skin to add volume and smooth lines to improve the appearance of facial wrinkles and fill in areas where volume has been lost.
VOLLURE is the first hyaluronic acid filler that's been proven to last for up to 18 months.
Turn Back the Clock Today
Contact Dr. Melda Isaac for a Consultation
Who Is a Good Candidate for VOLLURE?
Anyone who is concerned about deep lines and wrinkles around their mouth and nose is a candidate for VOLLURE injections. Be sure to inform Dr. Isaac in advance if you're pregnant or breast feeding before having filler injections.
Dr. Isaac will create a customized filler treatment for you, combining products from the JUVÉDERM family of fillers and BOTOX® Cosmetic to help you achieve your desired results.
Choosing Dr. Isaac for your Allergan treatments? Smart!
Saving on future treatments?

Brilliant!
Allergan's Brilliant Distinctions® program makes it easy to save on BOTOX®, JUVÉDERM®, CoolSculpting®, and other eligible treatments, as well as LATISSE® and SkinMedica® products. Getting started is simple; just sign up online.
Learn More
What Areas Can VOLLURE Treat?
Soften nasolabial folds (lines around the mouth)
Plump and firm lips
Fill in hollow temples
Enhance fullness of cheeks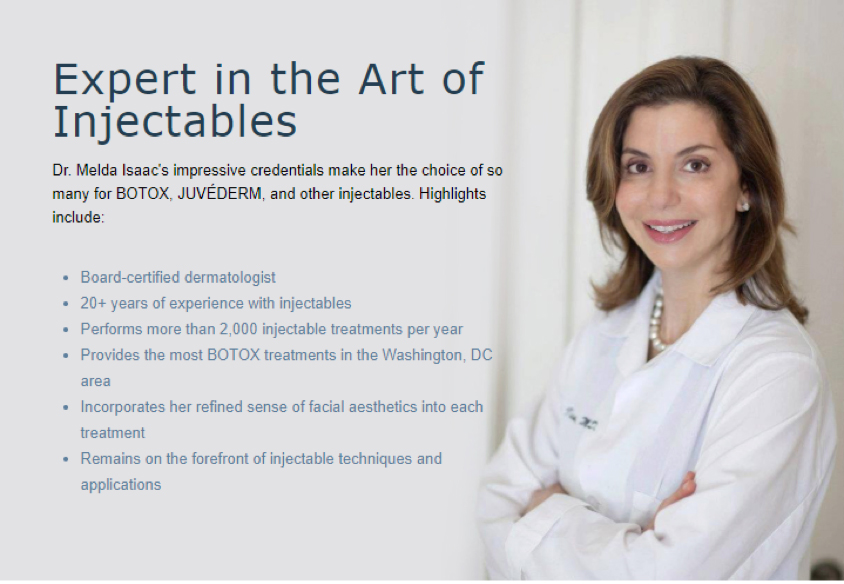 Frequently Asked Questions
Are there any side effects?
The most common side effects of dermal fillers include redness, swelling, tenderness, bruising, and firmness in the injection area. Side effects are usually mild or moderate and resolve on their own. VOLLURE treatments have no downtime associated with them.
How long does a treatment take?
An injectable treatment with VOLLURE takes about 30 to 45 minutes to complete. After treatment, a cold compress will be administered to help minimize initial swelling.
How long do results last?
The results of VOLLURE injections can be expected to last for up to 18 months, depending on where the treatment is administered. Every patient is unique, and results may vary.
Schedule a Dermal Filler Consultation Today!
When it comes to treating lines restoring lost volume, VOLLURE may be the perfect option for you. We can't wait to work with you. Request a consultation online or call us at (202) 393-7546 to book your appointment.