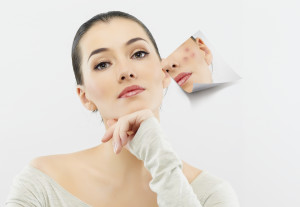 Acne scars can be a prominent and unwanted part of your facial topography. Scars can be unsightly and embarrassing and cause self-consciousness when out in public. Acne scars are especially common among both men and women. Acne is an extremely common condition both as a teenager and as an adult, and if severe outbreaks are left untreated, scars are formed on the skin.
At the MI Skin Dermatology Center in Washington DC, Dr. Melda Isaac offers many solutions for facial scarring, from gentle to more aggressive. Before committing to an acne scar treatment plan, Dr. Isaac will have a thorough consultation with you to determine which treatments would best suit your individual needs.
Turn Back the Clock Today
Contact Dr. Melda Isaac for a Consultation
What are these scars?
There are two types of scars that can result from acne outbreaks. The first type occurs when the skin produces too much collagen when trying to heal the inflamed lesion left behind by the acne, resulting in a raised mass. The second occurs when there is a loss of tissue following the acne, leading to depressed areas in the skin. There are different types of these depressed scars: ice pick scars, which are small but deep holes in the skin, boxcar scars, which are round or oval with steeply angled sides and more shallow rolling scars that have less defined borders.
Acne scars can become worse if exposed to the sun or if picked at. Sun exposure causes darkening of the scars due to melanin production in response to UV rays, while picking at scars can cause bacteria to form additional cysts, leading to a larger scar. Irritation from excessive face washing or exfoliation can also cause acne scars to worsen.
For more information on acne scarring treatments, check out WebMD.com.
Facial Scarring Treatment
Luckily for everyone who has had acne that led to scars, there are treatments available which can dramatically reduce the appearance of and even eliminate acne scars. Laser skin resurfacing, chemical peels, and photodynamic therapy are some of the most popular and effective methods to achieve smooth, scar-free skin.
CO2 Fractional Laser Skin Resurfacing
CO2 fractional laser skin resurfacing through Fraxel re:pair or Active/Deep FX is an aggressive option that produces dramatic results in one or two sessions. By creating tiny injuries in carefully targeted areas of the skin, the skin is induced to produce fresh new skin. These acne scar treatments create smooth, even skin after just one treatment, but five to seven days of downtime is required as the skin works to repair itself.
Erbium Laser Skin Resurfacing
Erbium lasers are a more gentle alternative to CO2 laser resurfacing. Erbium laser skin resurfacing works in the same way as a CO2 laser, but results in much less downtime as the laser does not penetrate as deeply into the dermis. Multiple sessions will be required to achieve full results; Dr. Isaac in Washington DC will let you know how many acne scar treatments you may need for full results.
Fraxel Restore
Fraxel Restore is one of the most popular laser treatments performed in Dr. Isaac's office. Fraxel is effective in treating discoloration in addition to scarring. A series of 3-5 sessions, each with weekend recovery, is required for optimal results.
Ematrix Fractional Radio Frequency
Fractional Radio-frequency uses longer wavelength radio waves instead of light wavelengths to penetrate into the dermis, heating the collagen, causing collagen stimulation and collagen remodeling thereby reducing the appearance of scars. RF is "colorblind" thereby allowing and ensuring safe treatment of scars in all skin types.
Dermapen Microneedling
Whether used in addition to Dermasweep or combined with other laser modalities such as Fraxel, Dermapen is an effective treatment for scars, striae, texture changes, and wrinkles. This instrument is a hand held rotary device made up of tiny needles which penetrate the skin making micro-breaks in the collagen. These breaks release platelets and their growth factors, and induce injury, stimulating collagen formation. Dermapen is one of the latest safe and effective procedures with minimal downtime performed by expert dermatologist Dr. Melda Isaac and her staff in Washington DC.
Chemical Peels
Chemical peels can be used to treat shallow acne scars. These peels work by eliminating dead surface skin cells, allowing new skin to form. Dr. Isaac in Washington DC performs mild to deep chemical peels depending on the condition of your skin and what would achieve the most satisfactory results. Chemical peels are safe and widely performed, and Dr. Isaac is an expert in determining the best peel for you.
Photodynamic Therapy
Photodynamic therapy (PDT) is a gentle treatment that uses pulsed blue or laser light to target irregularities on the surface of the skin. It has been found effective in treating acne scars as well as active acne, plus precancerous lesions and other dermatologic concerns. PDT requires multiple sessions, but the downtime is minimal and minor results can be seen after just one treatment.
Schedule your skin care consultation today!
If you have acne and acne scars, don't worry – you don't have to simply live with it! Contact Dr. Isaac at the MI Skin Dermatology Center in Washington DC to find out more information about acne scarring treatments options and to schedule your consultation by calling (202) 393-7546 today!
Next, read about Spider Veins.