Dermal fillers are extremely popular for facial rejuvenation, with 3.4 million treatments performed in the U.S. in 2020. It's understandable that people are drawn to this rejuvenation option that doesn't require surgery or recovery time. Many people want a quick, painless, natural-looking refresher to perk up skin that has begun to succumb to age and gravity.
Where can you benefit most from dermal filler treatments? In this blog post, we explore some of the most common rejuvenating uses for dermal fillers.
Dermal Fillers for Nasolabial Folds
Dermal fillers are generally used for smoothing fine lines and wrinkles and are especially dramatic when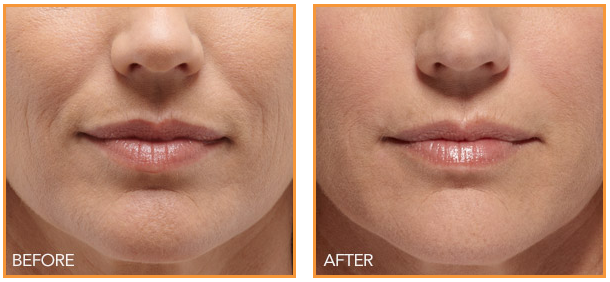 used to erase nasolabial folds—those deep lines that run from the outer corners of our nose to the outer corners of our mouth. As the years go by, those lines etch more deeply into our skin without intervention. Dermal fillers like JUVÉDERM® Vollure™ XC fill in those deep lines beneath the skin, adding a youthful fullness to smooth out laugh lines (as you can see in the before and after pictures at right).
Dermal Fillers for Cheeks
As we age, the fat under our skin begins to dwindle. The effects of this fat and volume loss are usually most noticeable in the cheeks, temples, and tear troughs. What's worse, fat shrinkage isn't the only side effect of aging on the skin; it also becomes more lax. Both issues cause the skin to sag and gather in unflattering spots to further obscure features like our chin and jawline. Dermal fillers such as JUVÉDERM Voluma®, Restylane® Lyft, and RHA® 4 can be used for cheek augmentation, and Voluma can also be used to better define the chin.
Dermal Filler Under the Eyes
Fat and volume loss under the eyes also cause shadowed tear troughs. This is more delicate tissue than the cheeks, though, so a lighter-weight dermal filler is often the best choice for smoothing this area. JUVÉDERM Volbella is a good option for the tear troughs, easing the shadows and plumping the skin for a more youthful look. RHA 2 is a more flexible filler that allows for natural movement, so it's a good option for filling in the crow's feet at the corners of the eyes that may emphasize sunken tear troughs.
Choosing the Right Dermal Filler
A host of dermal fillers can be used for various other features and areas, from nonsurgically reshaping the nose with Radiesse to plumping the lips with Restylane or RHA 2 to restoring fullness on the back of the hands with Sculptra.
As so many dermal fillers are available, it is essential to have a consultation beforehand to determine which one is best for your needs. Your injector will take into account your concerns and goals before recommending a customized dermal filler treatment plan for you. If you are interested in a more complete facial refresher, we may recommend other treatments to combine with the filler in order to get you the results you want.
Safe, Natural-Looking Results
When performed by an expert dermatologist with experience using dermal fillers, these treatments can be extraordinarily natural-looking. Most men and women don't necessarily want to look as if they have had work done, so strategic dermal filler placement is ideal for someone who just wants to soften their lines and take a few years off their face. You can see some of our patients' before and after pictures in our photo gallery.
Also, every dermal filler we use is FDA approved and safe for use by a board-certified dermatologist.
The potential side effects of dermal fillers, when administered professionally, are very minimal—just redness or swelling around the injection site. If this happens, it usually disappears within a few hours or a day and can be covered easily with makeup. Bruising is another potential side effect, but these can generally be avoided by following your dermatologist's instructions before coming in for your appointment.
Getting Started
If you are interested in dermal filler treatments in D.C., request a consultation at MI Skin Dermatology Center today or call us at (202) 393-7546.