Many people nowadays want to tighten their skin and achieve a youthful but still natural look. In the past, a surgical facelift may have been the only way to achieve a younger-looking appearance with tighter skin, but today, technology exists that allows for skin rejuvenation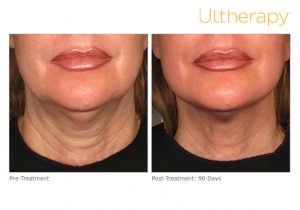 without needing to go under the knife. Dr. Isaac of MI Skin Dermatology Center offers Ultherapy in DC, a revolutionary device which can tighten and lift the skin without the need for any surgical incisions or recovery time.
What is Ultherapy?
Ultherapy uses ultrasound technology in order to penetrate the dermis, which is the deep layer of skin that provides the underlying foundation and texture. The dermis is responsible for the creation of collagen and elastin, two substances which are vital to skin elasticity, suppleness, and firmness. As we age, the production of collagen and elastin slows down, leading to drooping or sagging skin and wrinkles that get deeper over time.
Ultherapy is revolutionary in that it stimulates the dermis to produce more collagen and elastin while firming and lifting the skin from within. Ultherapy does not merely tighten skin, it lifts as well, leading to a more youthful but still natural look. Ultherapy is a great choice for those men and women who want a subtle change in appearance; a more awake and rejuvenated appearance rather than something overly drastic.
Why Choose Ultherapy?
Ultherapy works over time to rebuild firmness and tightness from within. The results are very natural, and the procedure itself does not take much time. Men and women with busy schedules and no time for a long procedure as well as a long downtime will find a great solution in Ultherapy, which requires no downtime and can be done in just an hour or two.
Ultherapy is also a good choice to pair with other procedures such as neurotoxins and dermal fillers for a more complete rejuvenation. "Liquid facelifts" have become very popular in recent years as people choose a combination of less invasive procedures for an overall facelift effect rather than undergoing a full surgical face or neck lift. A combo of Ultherapy for skin tightening plus dermal fillers for smoothing over wrinkles and fine lines can create a comprehensive effect that can be achieved in a short time with no recovery time needed.
What is an Ultherapy Procedure Like?
Ultherapy is a quick and painless procedure with little to no side effects or downtime. During a procedure, the most common sensation is one of slight tingling and heat. Most people describe the sensation as mild and comfortable. Ultherapy can be done in less than an hour, depending on the size and number of areas to be treated, and you can resume your everyday activities immediately afterwards.
There may be some slight swelling or redness following a procedure, which will usually dissipate on its own within a few hours. It is important to stay out of the sun following an Ultherapy procedure, as skin will be very sensitive. Be sure to wear sunscreen and protect your skin from UV rays in the weeks following a procedure!
Schedule Your Ultherapy Consultation Today
To learn more about Ultherapy and to request a consultation with Dr. Isaac, call (202) 393-7546 today! More youthful and rejuvenated skin can be yours.