Lip augmentation is an extremely popular treatment nowadays for both men and women, although it is more popular with women. This augmentation can be sought for a variety of reasons, including to plump lips that have thinned with age, to add volume to naturally thin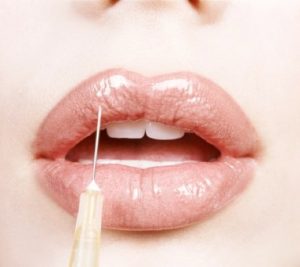 lips, and to reshape the lips into a more pleasing appearance. Many celebrities have had their lips augmented, leading to the procedure's rise in popularity among non-celebrities as well. Dr. Isaac at MI Skin Dermatology Center performs non-invasive lip augmentation tailored to your individual preferences.
Lip Augmentation vs Lip Implants
Lip augmentation can refer to both surgical and non-surgical means of adding volume to the lips. However, non-surgical augmentation using dermal fillers can have many benefits over surgical lip implants. Some of these benefits are:
Non-invasive lip augmentation is not permanent. If you don't like the results, they can be dissolved and your lips returned to their normal state.
Dermal filler procedures require no downtime and involve little to no side effects. You may experience some swelling or bruising around the injection site following the procedure, but this is short-lived and often goes away in a matter of days.
The injection process itself is a short and virtually painless procedure. Non-surgical lip augmentation often takes less than half an hour, and requires no anesthesia unless a topical numbing cream is requested. Skilled injectors such as Dr. Isaac use extremely thin needles and know the facial anatomy well enough to minimize the number of injections needed, thus making the procedure as painless and comfortable as possible.
Using dermal fillers such as Restylane or Belotero for lip augmentation can also be done as a trial run before committing to a more permanent surgical procedure, although many people prefer to simply renew the fillers rather than go through surgery.
Which Filler is Best for Lip Augmentation?
Restylane, Belotero, and Juvederm are generally considered the fillers of choice for lip augmentation. Each of these has been FDA-approved for use on the lips and has proven, demonstrated results. Which filler is best for you will be decided during your consultation with Dr. Isaac, where she will match a filler to your request in order to achieve the best results for you. Each person's lips are different, and require a different approach in order to make sure that the results look good and are what the patient wanted. 
Dr. Isaac has had years of experience performing non-invasive lip augmentations, and is considered an expert in this field. She will be able to assess your situation and determine how best to achieve optimal results. Lip augmentation can restore youth to aging lips, thus taking years off the entire face, and it can plump thin lips, bringing confidence back and revitalizing the face. The lips can even be reshaped, creating a fuller bottom lip or a more pronounced cupid's bow. During your consultation, your goals will be discussed and a plan decided upon to finally achieve the lips you want.
Schedule a Lip Augmentation Consultation Today
If your lips are in need of a makeover, don't hesitate to contact Dr. Isaac at MI Skin Dermatology Center. To learn more and schedule your consultation, call 202.393.SKIN today!