Autumn is officially here, and that means it's time to start correcting any sun damage you may have sustained over the summer. Many people get sunburns and damage their skin through inadequate sunscreen use in the summertime, and they may not even realize it until they start seeing sun spots, wrinkles, and uneven skin texture as a result of UV ray overexposure. Luckily, laser technology is advanced enough that there are lasers that can treat all sorts of skin conditions caused by the sun. Dr. Melda Isaac is a top DC dermatologist who offers a range of lasers for all skin types and conditions at MI Skin Dermatology Center.
Laser Treatments at MI Skin Dermatology Center
No matter what skin condition is troubling you, Dr. Melda Isaac at MI Skin Dermatology Center has a solution. Her wide range of lasers can treat conditions from wrinkles to sun spots, restoring your skin to a pre-sun damage state. Autumn and winter are the best times to have a laser treatment, as lasers leave the skin very sensitive to UV rays. In the autumn and winter, people tend to cover up and stay indoors more than in the summer, making these colder seasons the ideal time to restore your skin.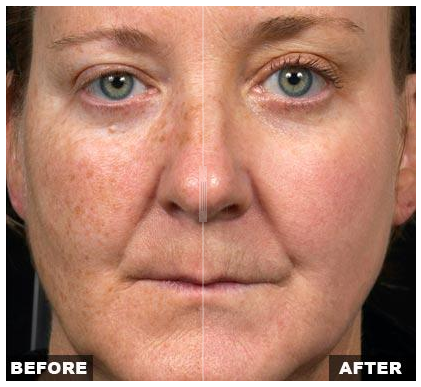 Fraxel and CO2 Fractional Laser Skin Resurfacing
Fractional laser skin resurfacing is an innovative method to renew the skin by creating microscopic injuries in a fractional pattern, stimulating collagen production, new skin growth, and tightening of the dermis. This leads to smoother, brighter, more youthful-looking skin, and can be used to treat acne scars, wrinkles, pigmentation problems, and uneven texture. A more aggressive treatment will produce more drastic results, but result in more recovery time, while a milder treatment may require more sessions but will not require as much downtime. Dr. Isaac will make sure to discuss the best treatment options with you!
Intellitone Laser
The Intellitone laser is an extremely popular laser that requires no downtime. It is a gentle, effective treatment that works on all skin types! Intellitone can be used to treat fine lines and wrinkles as well as active acne, acne scars, rosacea, and enlarged pores. Due to the lack of recovery time needed and the amazing results, Intellitone is one of the most sought-after Washington, DC laser skin treatments!
IPL and V-beam Photofacial
IPL, or intense pulsed light, photofacials are a fast and safe way to reduce both red and brown pigmentations problems such as sunspots, spider veins, and and rosacea. IPL photofacials require no downtime and can leave you with brighter, clearer skin.
V-beam treatments target mostly red lesions, such as spider veins, red birthmarks, and acne scars. These also require little to no downtime, and leave the skin clearer and more evenly textured!
Which Washington, DC Laser Skin Treatment is Right for You?
There are many different types of lasers available, so you should have a thorough consultation before deciding which one will best suit your individual needs! Dr. Isaac will discuss the merits of each laser with you before deciding which one will suit you best. Laser treatments should always be done by a board-certified professional with expertise and experience in order to produce the most optimal results.
Schedule a Washington, DC Laser Skin Treatment Consultation Today
If you are interested in rejuvenating your skin with a laser treatment, contact Dr. Isaac at MI Skin Dermatology Center today! To find out more information about laser treatments and to request a consultation, call (202) 393-7546.