At MI Skin Dermatology Center, we make facial rejuvenation quick and easy by offering a variety of safe, effective nonsurgical treatment options. BOTOX Cosmetic is a top choice for treating wrinkles without downtime. Dr. Melda Isaac is a board-certified dermatologist whose extensive experience with injectables has made her best known for BOTOX injections in Washington, D.C. Because of her talent with this popular treatment, her patients look refreshed and more youthful without sacrificing their natural expressions.
What Is BOTOX Cosmetic Used For?
At our dermatology center in the heart of Washington, D.C., we can use BOTOX injections to soften wrinkles in a very natural-looking manner to ensure patients are still able to make their normal expressions. These treatments are often used to correct:
Horizontal forehead lines
Crow's feet around the eyes
Vertical frown lines between the eyebrows
Bunny lines on the bridge of the nose
We can also BOTOX to treat a gummy smile, slim the jawline, and provide a subtle lift to the eyebrows. Anti-wrinkle treatment results vary from patient to patient, so it is important to find a skilled injector.
BOTOX® Treatment Areas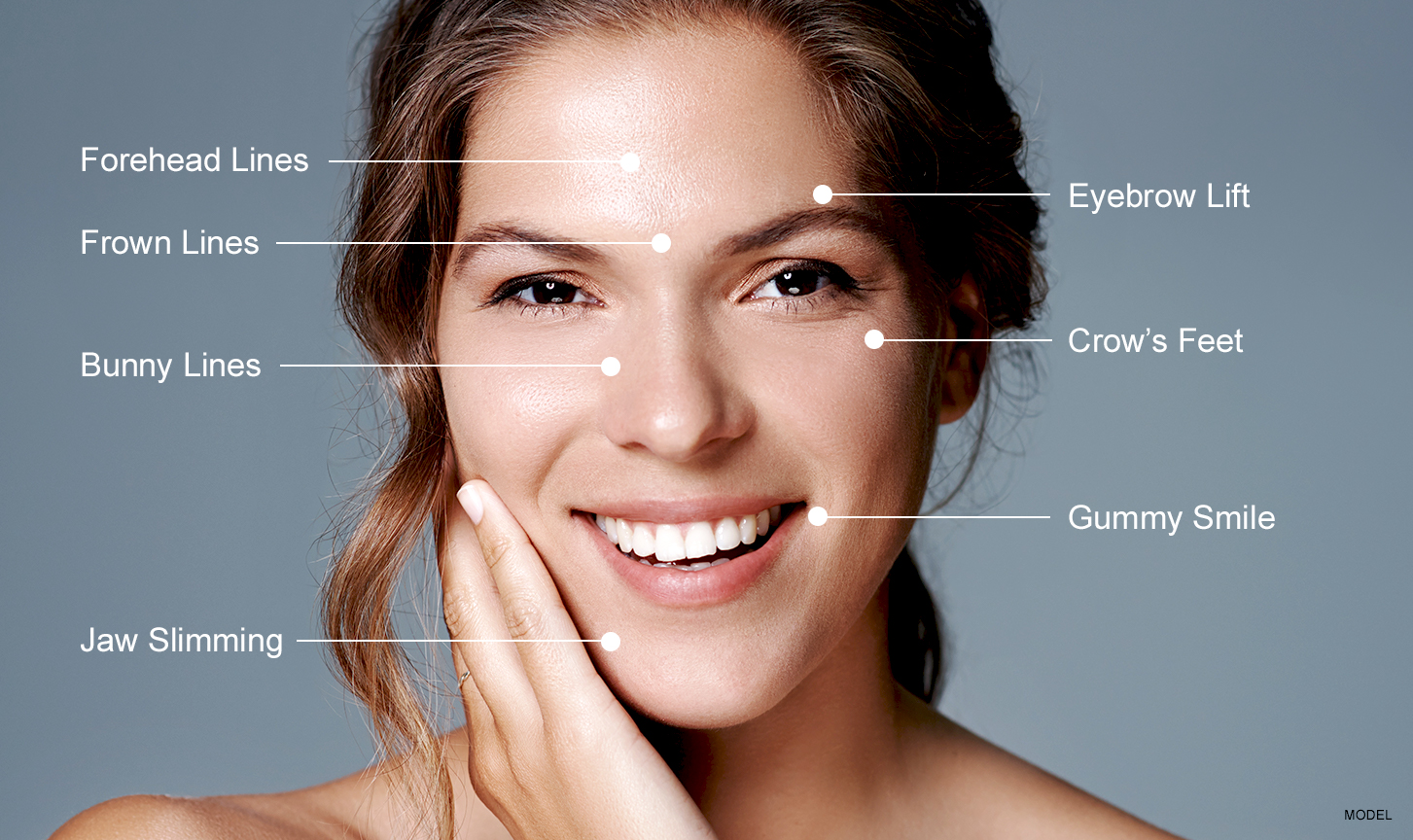 How does BOTOX Treat Wrinkles?
BOTOX and its newer alternatives Dysport® and XEOMIN® are neuromodulator treatments that address dynamic wrinkles, which are formed by the repeated contractions of facial muscles. When injected into precise locations, BOTOX relaxes the muscles, allowing the wrinkles to gradually smooth out and preventing them from becoming deeper. It can also be used proactively in younger patients to prevent wrinkles from forming in the first place.
Are There Other Uses for BOTOX?
While treating wrinkles is the best-known use for BOTOX, our Washington, D.C. practice uses it to treat medical conditions, including:
Excessive Sweating
Hyperhidrosis is a medical condition that causes excessive sweating. It is often localized to the palms or underarms and causes sweat even when there is no external stimulus such as exercise or heat.
BOTOX has been tested and proven to treat hyperhidrosis under the arms and is FDA approved for that use. Learn more about BOTOX for sweating.
Migraine Headaches
Chronic migraines can be a severe problem, affecting the quality of life for those with the condition. Unfortunately, chronic migraines can also be difficult to treat effectively. For men and women who have trouble finding a solution for their migraines, BOTOX may help. It has been FDA approved for the treatment of chronic migraines and can often provide some relief where other treatments have not been effective. Learn more about BOTOX for migraines.
Expert in the Art of Injectables
Dr. Melda Isaac's impressive credentials make her the choice of so many for BOTOX, JUVÉDERM, and other injectables. Highlights include:
Board-certified dermatologist
20+ years of experience with injectables
Performs more than 2,000 injectable treatments per year
Provides the most BOTOX treatments in the Washington, DC area
Incorporates her refined sense of facial aesthetics into each treatment
Remains on the forefront of injectable techniques and applications
Who Is a Candidate for BOTOX Injections?
In order to be eligible for BOTOX injections, whether for cosmetic concerns or medical issues, you must first be in good general health. When addressing unwanted facial wrinkles, for example, the fine lines and wrinkles must be located in an area that the neuromodulator can treat, such as on the forehead, between the eyes, or even around the neck. Before any neuromodulator treatment, your doctor will determine whether your concern can be effectively treated with well-placed BOTOX injections.
You may not be a good candidate for BOTOX if you have a serious illness or infection or are suffering from a skin infection at the treatment site. BOTOX is not recommended for patients who are currently pregnant or breastfeeding, as well as those who are allergic to botulinum toxin products or have a muscle or nerve condition that might interfere with the treatment. To learn whether you are a candidate for neuromodulator injections, please schedule an appointment with us today!

Choosing Dr. Isaac for your Allergan treatments? Smart!
Saving on future treatments?

Brilliant!
Allergan's Brilliant Distinctions® program makes it easy to save on BOTOX®, JUVÉDERM®, CoolSculpting®, and other eligible treatments, as well as LATISSE® and SkinMedica® products. Getting started is simple; just sign up online.
Learn More
What Is Recovery Like After BOTOX?
As a fairly simple treatment, BOTOX injections are not painful and do not require any amount of downtime. Most patients experience a pinching sensation during the injection that quickly fades. Patients may see some redness or slight bruising around the injection sites, but these side effects typically fade within a day or two. Patients may also safely conceal the redness or bruising with makeup. Dr. Isaac warns patients against exercising for about 24 hours after a BOTOX treatment. That's because the increased blood flow caused by exercise can reduce the significance of your results by essentially "thinning out" the product.
How Long Will the Results Last?
The full results of BOTOX are typically not visible until a week after the injections. Over the first few days, you will notice wrinkles slowly fading and the full effect should last at least 3 to 6 months. Follow-up appointments at our office will be necessary to maintain the full effects of botulinum toxin injections.