Women and men who want to look refreshed and more youthful, yet natural, see Dr. Melda Isaac for XEOMIN treatments in Washington, D.C. at MI Skin Dermatology. This more recent alternative to BOTOX® Cosmetic is used for treating lines and wrinkles but is free from additives. As a specialist in nonsurgical facial rejuvenation, Dr. Isaac is known throughout the area for her talent in performing injections with XEOMIN and a range of other injectables.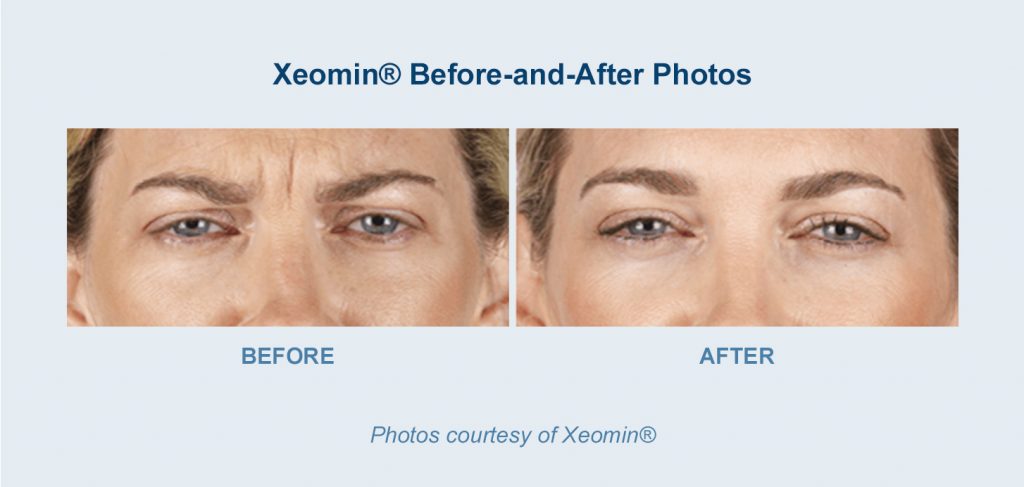 How XEOMIN Works
Approved for cosmetic use by the FDA in 2011, XEOMIN is a neuromodulator similar to BOTOX and Dysport®. Neuromodulators are used to temporarily smooth out lines and wrinkles caused by repeated contractions of facial muscles. Once the treated muscles are unable to contract, the wrinkles in the overlying skin gradually smooth away. When injected by a skilled, board-certified dermatologist such as Dr. Isaac, XEOMIN does not affect the patient's ability to make natural facial expressions.
Benefits of XEOMIN
These treatments help women and men look rejuvenated and more youthful by smoothing out:
Vertical frown lines between the eyebrows (glabellar lines)
Horizontal creases across the forehead
Crow's feet at the outer corners of the eyes (periorbital lines)
Dr. Isaac can also use XEOMIN treatments proactively to prevent wrinkles from forming or becoming well-defined in younger patients.
Expert in the Art of Injectables
Dr. Melda Isaac's impressive credentials make her the choice of so many for BOTOX, JUVÉDERM, and other injectables. Highlights include:
Board-certified dermatologist
20+ years of experience with injectables
Performs more than 2,000 injectable treatments per year
Provides the most BOTOX treatments in the Washington, DC area
Incorporates her refined sense of facial aesthetics into each treatment
Remains on the forefront of injectable techniques and applications
Combining Treatments
XEOMIN may be safely combined with dermal fillers such as such as JUVÉDERM® or Restylane® for a more comprehensive rejuvenation. In addition, Dr. Isaac can combine a variety of noninvasive cosmetic treatments for a nonsurgical, mini facelift targeted at specific patient concerns.
XEOMIN for Hyperhidrosis
XEOMIN, along with BOTOX and Dysport, may be used to treat excessive sweating, a condition called hyperhidrosis. When injected in specific points under the arms or in the palms, XEOMIN prevents the release of a chemical that activates the sweat glands. While experiences vary, sweat is usually noticeably reduced in treated areas for about 3 months; in some cases, XEOMIN can control hyperhidrosis for up to a year.
What to Expect
Dr. Isaac performs XEOMIN treatments as a simple office procedure. Many patients know what to expect because Dr. Isaac has performed their injections for years. With new patients, Dr. Isaac takes the time to thoroughly explain the procedure before she begins. Treatments usually do not cause significant discomfort; however, patients who are concerned can choose to have a topical numbing cream applied in advance. Dr. Isaac makes the quick injections into precise points of specific muscles with a short, fine needle. After treatment, patients can return to their regular daily activities.
XEOMIN Results
Within just 3 to 5 days, treated wrinkles begin to gradually smooth out and may continue to relax for approximately 10 to 14 days. The refreshed look lasts approximately 3 to 4 months. Touchup treatments are recommended periodically to maintain the improvements.
Neuromodulators such as XEOMIN have an undeserved reputation for causing "frozen" expressions. However, when injected by an experienced cosmetic dermatologist such as Dr. Isaac who knows exactly where to place the injections for the best results, XEOMIN should not interfere with the patient's ability to make natural expressions. The best injectors treat wrinkles in such a way that it is almost impossible to tell work has been done.
Schedule a Consultation Today
If you are considering XEOMIN or other injectable treatments, request a consultation using our online form or call (202) 393-7546 today to schedule an appointment.