Get Beach Body Ready for the Summer
With the long winter we've had, it may seem like summer will never come – but it's just around the corner!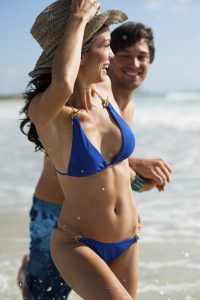 Are you ready for the pool or beach? If you're not quite ready, don't worry – we have you covered here at MI Skin Dermatology. We offer a wide variety of body contouring and skin tightening devices to help you on your way to a body you feel comfortable showing off.
Reduce Unwanted Fat Bulges
It can be extremely difficult to get rid of small fat bulges that don't respond to diet or exercise. Women often have these areas in the abdomen and thighs, while men tend to develop love handles. When these areas do not reduce through traditional means such as lifestyle change, it may be time for a device such as CoolSculpting or Vanquish.
CoolSculpting uses cryolipolisis to target and freeze fat cells. Especially when followed by the Zimmer Z-Wave device to massage and distribute the cells, CoolSculpting is very effective at reducing the circumference of your waist or even thighs. Vanquish can also be used on both the abdomen and thighs, thanks to the brand-new thigh applicator. Vanquish uses radiofrequency energy rather than cryolipolis, and one benefit is that the abdomen applicator doesn't even touch the patient's body!
Smooth your Cellulite
If you're suffering from cellulite (and chances are that you do have some; 80 to 90 percent of women will develop cellulite in their lifetime) and it's bothering you, you may be interested in Exilis. Exilis is a non-invasive fat reduction and skin tightening device that is also used for smoothing cellulite. It is painless and fairly quick, and requires no downtime!
Exilis uses radiofrequency technology to heat and destroy fat cells. This is a proven safe and effective method that works to stimulate collagen and elastin production, resulting in smoother and tighter skin.
Tighten Loose, Sagging Skin
As we age, we lose collagen and elastin, leading to loose, less elastic skin which is more prone to wrinkles. Luckily there are devices available that can tighten and smooth skin in a non-invasive way. A facelift is no longer the only option for achieving firmer, youthful skin!
Accent RF and Ultherapy are great devices for skin tightening. Both will penetrate deep into the skin in order to tighten the dermis layer and stimulate collagen production. Through this enhanced collagen production, the skin will become firmer, smoother, and tighter. These devices are great for the face and neck areas especially, and will give you a more youthful look. Aside from the face and neck, they can also be used to help with the appearance of saggy arms or chest.
Contact Dr. Isaac at MI Skin Dermatology Today
If you're thinking about your beach body and want to be prepared for when summer finally comes, contact Dr. Isaac today! Call (202) 393-7546 to request a consultation and find out more information.